The Rainbow Book List Committee proudly announces the 2015 Rainbow Book List. The Rainbow Book List is a bibliography of books with significant gay, lesbian, bisexual, or transgender content, and which are aimed at youth, birth through age 18. The list is intended to aid youth in selecting high-quality books which were published between July 2013 and December 2014. The list also is intended to aid as a collection development or reader's advisory tool for librarians serving children and young adults.
The committee members evaluated over 140 books from small, independent, and large publishers, and selected 24 books from 15 publishers for the 2015 Rainbow Book List. Among the 150 books evaluated by the committee, committee members noted an increase in the number of titles featuring authentic trans voices as well as an increase in picture books.
Titles noted with an asterisk (*) are a Top Ten Title.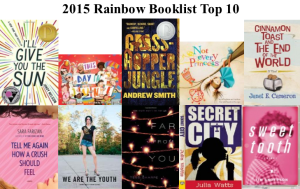 Juvenile Fiction
Federle, Tim. Five, Six, Seven, Nate! January 2014. 304p. Simon & Schuster Books for Young Readers, $16.99. (9781442446939). Ages 10-14.
In the sequel to Better Nate Than Ever, Nate Foster's Broadway dreams are finally coming true.
YA Fiction
Anonymous. The Book of David. June 3, 2014. Simon Pulse, $9.99. (1442489855). Ages 14-17.
Through journal entries, a small-town high school quarterback recounts his experiences of falling for the new kid and the fear of being outed by his best friend.
Barakiva, Michael. One Man Guy. May 2014. 261p. FSG, $17.99. (978-0-374-35645-3). Grades 7-10.
Freshman Alek's idea of a great summer is not summer school, but his strict and academically driven Armenian parents have different plans. Enter Ethan, the totally suave, older, skater dude. School never looked so good.
*Cameron, Janet E. Cinnamon Toast and the End of the World. February 2014. 373p. Hachette Books Ireland, $22.99. (978-1444743975).
Stephen Shulevitz has three months to go before his high school graduation, when he's faced with the end of the world–realizing he's in love with very straight and very homophobic best friend. With only a few months left to go in his small town, Stephen tries to figure out who he is and who he wants to be.
*Farizan, Sara. Tell Me Again How a Crush Should Feel. October 2014. 304p. Algonquin Young Readers, $16.95. (9781616202842). Ages 12-18.
High-school junior Leila Azadi suddenly and unexpectedly falls hard for Saskia, the beautiful and sophisticated new girl at school. Leila finds herself taking risks she never would have before.
Kamata, Suzanne. Screaming Divas. May 2014. 205p. Merit Press, $17.99. (978-1440572791). Ages 14-17.
High school misfits Trudy, Cassie, Harumi and Esther seem an unlikely group to be in the up-and-coming punk band Screaming Divas. Will their rocky friendship survive love, addiction and imminent tragedy?
LaCour, Nina. Everything Leads To You. May 2014. 307p. Dutton Juvenile, $17.99. (978-0525425885). Grades 9-12.
Emi and her best friend Charlotte are invited to stay at Emi's brother's apartment in LA for the summer after graduation, with one condition: they must do something "epic" while he's gone. When they discover a cryptic letter from a world-famous celebrity, Emi thinks that this mystery might be what they're looking for.
*Nelson, Jandy. I'll Give You the Sun. 2014. 384p. Dial books for young readers (Penguin Young Readers division), $13.74. (0803734964). Ages 14+
Artistic twins Jude and Noah each have only half the story of why they broke apart. Their art becomes a force of its own as they negotiate love, loss, lies and the possibility of reuniting their lives.
*Sharpe, Tess. Far from You. April 2014. 344p. Hyperion, $17.99. (978-1-4231-8462-1). Grades 9-12.
Sophie lives with chronic pain from a car accident that also left her hooked on Oxy. Sophie is clean now—but she's reeling from the loss of her love Mina, who died in a mysterious shooting that the police think was a botched drug deal. Will Sophie be able to solve the murder, or will she be the next victim?
*Smith, Andrew. Grasshopper Jungle. February 2014. 388p. Dutton Books. $18.99. (978-0-525-42603-5). Ages 14+
As if living in a world overrun by six-foot-tall hungry and horny mutant praying mantises isn't bad enough, Austin realizes he is in love with both his best friend Robbie and his girlfriend Shann. #donteatthecorn
*Watts, Julia. Secret City. July 2013. 266p. Bella Books, $11.95. (9781594933905). Grades 8-12.
When sixteen-year-old Ruby Pickett moves with her family to Oak Ridge, Tennessee in 1944, she is told not to talk about why this new city was created. When Ruby starts working for Iris, a young mother whose husband works in one of the top-secret government buildings, their friendship blossoms into something more and Ruby begins to believe in a wider world for herself.
Westerfeld, Scott. Afterworlds. September 23, 2014. 608p. Simon Pulse, $19.99. (978-1481422345). Ages 14+
With a contract in hand for her YA novel, eighteen-year-old Darcy Patel arrives in New York City. Over the course of a year, Darcy finishes her book, faces critique, and falls in love in love with the enigmatic Imogene. Woven into Darcy's personal story is her novel, Afterworlds, a suspenseful thriller about a teen who slips into the "Afterworld" to survive a terrorist attack.
YA Non-fiction

*Anderson, Tim. Sweet Tooth. March 2014. 334p. Lake Union Publishing, $14.95. (978-1477818077). Ages 17+
What's a sweets-loving boy growing up gay in North Carolina in the eighties supposed to think when he's diagnosed with type 1 diabetes? That God is punishing him, naturally. Sweet Tooth is Tim Anderson's uproarious memoir of life after his hormones and blood sugar both went berserk at the age of fifteen.
Andrews, Arin. Some Assembly Required: The Not-So-Secret Life of a Transgender Teen. September 2014. 256p. Simon & Schuster Books for Young Readers. $17.99. (9781481416757). Ages 14+
Seventeen-year-old Arin Andrews describes the struggles he faced being perceived as a girl growing up, and how things changed for him that he experienced once he began his transition in this humorous and sometimes heartbreaking memoir.
*Golio, Laurel and Diana Scholl. We Are the Youth: Sharing the Stories of LGBT Youth in the United States. June 2014. 95p. Space-Made. $19.99. (978-1-63173-223-2). Ages 10+
Based on an ongoing photojournalism project of the same name, We Are the Youth was inspired by the idea that reading about others' life experiences can create understanding, empathy and empowerment. In this book, LGBT youth tell their stories in their own words.
Hill, Katie Rain. Rethinking Normal: A Memoir in Transition. September 2014. 272p. Simon & Schuster Books for Young Readers, $17.99. (978-1481418232). Grades 8+
In an honest and unique voice, Katie Rain Hill opens up about growing up, struggling with depression, family, love, and undergoing gender reassignment.
Hill, Mel Reiff and Jay Mays. The Gender Book. January 2013. 90p. Marshall House Press, $31.00. (0991338006). Grades 7-10
An illustrated guide to the nuances of gender and gender identity for all ages.
Kuklin, Susan. Beyond Magenta: Transgender Teens Speak Out. 2014. 192p. Candlewick, $22.99. (0763656119). Grades 7-12.
Six trans and gender-neutral teens are interviewed in this necessary resource for teens and adult alike. While the trans experience varies from teen to teen, the participants Beyond Magenta are candid and unflinchingly honest.
Graphic Novel Non-fiction
Ed. Saiya Miller and Liza Bley. Not Your Mother's Meatloaf. July 2013. 272p. Soft Skull Press, $15.95. (1593765177). Ages 16+
In this comics anthology, a variety of authors explore their experiences, perceptions of sexuality, gender, power, consent, and their own bodies as they relate experiences from their teenage years.
Prince, Liz. Tomboy: A graphic memoir. September 2014. 256p. Zest Books, $15.99. (978-1936976553). Grades 8+
For as long as she can remember, Liz has been happiest in jeans and sneakers, never in dresses and heels. Is there a place for a tomboy in girl culture?
Picture books 
Baldacchino, Christine. Morris Micklewhite and the Tangerine Dress . May 2014. 32p. Groundwood Books, $16.95. (978-1554983476). Age range: 4-8.
Morris wears a beautiful orange dress that reminds him of his mother's hair and tigers, but his classmates say that dresses are for girls. One night, Morris has a dream that changes everything.
*Bone, Jeffrey and Lisa Bone. Not Every Princess. 32p. Magination Press; $14.95. (978-1433816475). Grades Pre-K-3.
Anyone can be a princess, a pirate, a mermaid, or a superhero. Demonstrated through rhyming text and whimsical illustrations, whatever you can imagine, you can become.
Herthel, Jessica + Jazz Jennings. I am Jazz. September, 2014. 32p. Dial, $17.99. (0803741073). Ages 4-8.
Jazz says she "has a girl brain in a boy body." Based on the life of Jazz Jennings, this picture book talks about her experiences growing up as a transkid.
*Pitman, Gayle E., Litten, Kristyna (illustrator). This Day in June. May 2014. 32p. American Psychological Association Magination Press, $14.95. (978-1-4338-1658-1). Age range: 4-8.
This Day In June welcomes young readers to experience a pride celebration and share in a day when we are all united.