2017 Rainbow Book List
The Rainbow Book List Committee proudly announces the 2017 Rainbow Book List.  The Rainbow Book List is a bibliography of books with significant gay, lesbian, bisexual, transgender, or queer/questioning content, which are aimed at youth, birth through age 18.  The list is intended to aid youth in selecting high-quality books that were published between July 2015 and December 2016.  The list is also intended to aid as a collection development or readers' advisory took for librarians serving children and young adults.
The committee members evaluated nearly 270 books from small, independent, and large publishers, and selected 47 books from 24 publishers for the 2017 Rainbow Book List.  The list also includes three additional books selected by the Stonewall Book Awards Committee as Mike Morgan & Larry Romans Children's & Young Adult Award or Honor Books.
Starred titles indicate the Rainbow Book List's Top Ten choices from the list, highlighting books of exceptional queer representation and literary merit to receive particular commendation.
The committee members would like to note the wider representation of the queer spectrum this year, including more asexual, gender queer, and biromantic characters as well as polyamorous relationships; however, there was a distinct drop in bisexual/pansexual representation. Middle grade fiction books, as well as high-quality non-fiction continue to be sparse.  Homelessness, which disproportionately affects LGBTQ+ youth, also continues to be a scarcely addressed, but sorely needed, subject.  While there has been an increase in diversity of characters as well as characters of various intersectionalities, the numbers still remain small on the whole.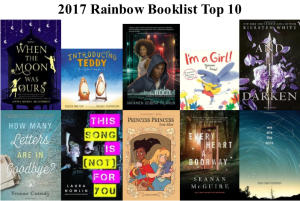 Picture Books
Austrian, J.J. Worm Loves Worm. Written by J.J. Austrian; illus. by Mike Curato. 2016. 32p.  HarperCollins/Balzer & Bray, $17.99 (9780062386335). Age 3-8. Worm loves worm, and now they want to get married.  But which worm is the bride and which is the groom?  And does it matter?
Howe, James. Big Bob, Little Bob. Written by James Howe; , illus. by Laura Ellen Anderson. 2016. 32p. Candlewick, $15.99 (9780763644369). Ages 3-7. Three friends learn that gender doesn't matter when it comes to playing with toys.
* Ismail, Yasmeen. I'm a Girl. 2016. 32p. Bloomsbury, $16.99 (9781619639751). Ages 3-7.  A spunky child is not afraid to be herself.
* Walton, Jessica. Introducing Teddy: A Gentle Story About Gender and Friendship. Written by Jessica Walton; illus. by  Dougal MacPherson. 2016. 32p. Bloomsbury, $16.99 (9781681192109). Ages 3-6. Errol's teddy bear, Thomas, is sad until telling Errol the bear is actually a girl teddy bear and wants to be called Tilly. Errol and Tilly move the bow-tie from her identity as Thomas to a hair bow for Tilly. Errol only cares that the teddy bear is his friend.
Williams, Vera and Chris Raschka. Home at Last. 2016. 40p. HarperCollins/Greenwillow, $17.99 (9780061349737). Age 5-8.  Lester finds a loving home with Daddy Rich and Daddy Albert and their big, fluffy dog.
Middle Grade Fiction
Gephart, Donna. Lily and Dunkin. 2016. 340p. Random House Children's/Delacorte, $16.99 (9780553536744). Grades 4-6. Lily is fighting to live openly as a girl, Dunkin is fighting his memories of his father, and they're both fighting to save the tree in front of the library.
Hennessey, M. G. The Other Boy. 2016. 234p. HarperCollins, $16.99 (9780062427663). Grades 5-8. Twelve-year-old Shane loves baseball, drawing, and hanging out with his best friend until a transphobic school bully targets him. When Shane loses hope for finding his place in the world, some unexpected allies step forward.
Levy, Dana Alison. The Family Fletcher Takes Rock Island.  2016.  259p. Random House/Delacorte Books for Young Readers, $16.99 (9780553521306). Grades 3-5. The Fletcher family looks forward to their regular vacation at Rock Island: clam chowder, swimming, ice cream, and most of all the lighthouse. But when they find the lighthouse fenced off when they arrive, it starts a summer unlike all the rest.
Riordan, Rick. The Hidden Oracle. 2016. 376p. Disney, $19.99 (9781484732748). Grades 5-8. Apollo's in trouble with Zeus and has been banished to Earth as a mortal with none of his godly powers, so he makes his way to Camp Half-Blood before finding out about an all-new threat to Camp Half-Blood and the world.
Riordan, Rick. Magnus Chase and the Gods of Asgard: The Hammer of Thor, 2016. 471.  Disney, $19.99 (978-1423160922). Grades 5-8. Stonewall Book Awards–Mike Morgan & Larry Romans Children's Award Book.  In Magnus's second adventure, Rick Riordan introduces readers to Alex Fierro, a gender fluid teen who has "startling eyes, an impressive sweater-vest, and a tendency to hit people" (54). Alex is a hero and represents the expansive possibilities of gender for future generations.
Middle Grade Non-Fiction
Stevenson, Robin. Pride: Celebrating Diversity and Community. 2016. 119p. Orca Books,  $24.95 (9781459809932). Grades 4-8. Stonewall Book Awards–Mike Morgan & Larry Romans Children's Honor Book.  A visually stunning history and celebration of pride.
Young Adult Fiction
Brothers, Meagan. Weird Girl and What's His Name. 2015. 320p. Three Rooms Press, $16.95 (9781941110270). Grades 9+. Lula and Rory have two things in common: their love for X-Files and the fact they don't fit in in their small town of Hawthorne, North Carolina. They share everything with one another, until Lula finds out Rory has a few secrets hidden up his sleeve, making Lula reconsider her sexuality and their friendship.
Brown, Jaye Robin. Georgia Peaches and Other Forbidden Fruit. 2016. 419p. HarperCollins/HarperTeen, $17.99 (9780062270986) Grades 10+.  When out and proud Jo is forced to move to small-town Georgia, she grants her father's request to protect his ministry and new marriage by returning to the closet. But who will she meet in the closet?
* Cassidy, Yvonne. How Many Letters are in Goodbye? 2016. 427p. North Star Editions/Flux, $11.99 (9780738747453). Grades 9+. Rhea lost her mother 14 years ago, but is still saying goodbye with letters describing her struggles coming to terms with her sexuality, gaining and losing love, and experiencing homelessness in NYC.
Cherry, Allison. Look Both Ways. 2016. 296p. Random House/Delacorte, $17.99 (9780553511864). Grades 9+. Brooklyn finds herself falling into a romance with her roommate Zoe at acting camp, and she questions her identity and what she really wants.
Clark, Kristin Elizabeth. Jess, Chunk, and the Road Trip to Infinity. 2016. 256p. Macmillan/Farrar, Straus & Giroux, $17.99 (9780374380069). Grades 9+. After starting her transition, Jess takes her best friend Chuck across the country to come out to her dad, but spends the trip learning what it means to be a good friend.
Curtis, Simon. Boy Robot. 2016. 415p. Simon & Schuster/Simon Pulse, $17.99 (9781481459297). Grade 9+. On the run in a dystopian society that wants him dead, Isaak finds refuge in an underground network of robots and humans.
Downham, Jenny. Unbecoming. 2016. 375p. Scholastic/David Fickling Books, $17.99 (9780545907170). Grades 9+.  Stonewall Book Awards–Mike Morgan & Larry Romans Children's Honor Book.  As if kissing her best friend and then being shunned by all her school mates isn't bad enough, now the grandmother Katie didn't know existed is living with them.  But revelations of her mother's and grandmother's histories soon offer insights into her own life that she couldn't have predicted.
Federle, Tim. The Great American Whatever. 2016. 278p. Simon & Schuster, $17.99 (9781481404099). Grades 9+.  After spending 6 months alone grieving over the loss of his sister, Quinn's best friend forces him out to a party where he meets and falls for the older and more experienced Amir.
Garvin, Jeff. Symptoms of Being Human. 2016. 335p. HarperCollins/Balzar + Bray, $17.99 (9780062382863). Grades 9+. Is Riley Cavanaugh a boy or a girl? The answer is yes.  In this ground-breaking exploration of what it's like to be a gender fluid teen, Riley grapples with self-identity, balancing that identity with family expectations, and standing up to bullies.
Girard, M.E. Girl Mans Up. 2016. 373p. HarperCollins/HarperCollins Children's Books, $17.99 (9780062404176). Grades 9+. Between her parent's need for her to wear dresses and her best friend's need for her to be one of the guys, Pen slowly loses herself. Will she man up?
* Hutchinson, Shaun David. We Are the Ants. 2016. 451p. Simon & Schuster/Simon Pulse, $17.99 (9781481449632). Grades 9+. Henry has the chance to destroy the world; should he press the button?
Jaffe, Sara. Dryland. 2015. 216p. Tin House Books, $14.95 (9781941040133). Grade 9+.  Floating through life is something Julie excels at, until Alexis unexpectedly invites her to join the swim team.  Is the invitation more than just a spot on the team?
Levithan, David, and Nina LaCour. You Know Me Well. 2016. 250p. Macmillan/St. Martin's/Griffin, $18.99 (9781250098641). Grades 9+. Mark's boyfriend ditches him to flirt with older guys, and Kate runs away from meeting the girl of her dreams. Instead of finding themselves alone, they find each other for the kick off of San Francisco's Pride Week.
Logan, Kenneth. True Letters from a Fictional Life. 2016. 323p. HarperCollins Children's Books/HarperTeen, $17.99 (9780062380258). Grades 9+. The real James Liddell is hidden inside his desk. His friends see his girlfriend, athleticism, and confidence as givens, but the letters inside tell another story.
Mason, Jane B. Without Annette. 2016. 325p. Scholastic, $18.99 (9780545819954). Grades 9+. Josie and her girlfriend Annette escape Annette's alcoholic mother and their small town, but suddenly closeted and excluded from Annette's new circle, the private boarding school in Connecticut is not what Josie thought it would be.
* McGuire, Seanan. Every Heart a Doorway. 2016. 173p. Macmillan/St. Martin's Press/Tom Doherty Associates, $17.99 (9780765385505). Grades 9+. Nancy found a home for herself serving the Lord of the Dead in his Underworld, but after being cast out, she finds a group of fellow magical travelers at Eleanor West's Home for Wayward Children.
* McLemore, Anna-Marie. When the Moon Was Ours. 2016. 273p. Macmillan/St. Martin's/Griffin/Thomas Dunne, $18.99 (9781250058669). Grades 9+. Stonewall Book Awards–Mike Morgan & Larry Romans Children's Honor Book. A girl born of a water tower and a boy who hangs moons risk everything for love in this magical fairy tale.
Moskowitz, Hannah, and Kat Helgeson. Gena/Finn. 2016. 287p. Chronicle Books, $17.99 (9781452138398). Grades 9+. Gena and Finn find each other online through tv fandom. As their friendship develops, neither one expects the disaster that waits around the corner.
* Nowlin, Laura. This Song Is (Not) for You. 2016. 230p. Sourcebooks/Sourcebooks Fire, $9.99 (9781492602903). Grades 8+. Bandmates Sam and Ramona are in love with each other, but afraid to admit it. When Tom, who has always had to defend his asexuality to others, makes their duo a trio, there is enough love for everyone.
Redgate, Riley. Seven Ways We Lie. 2016. 343p. Abrams/Harry N. Abrams, $17.95 (9781419719448). Grades 9+. One scandal. Seven students. As they bury their secrets and uncover others', friendships and unexpected loves are formed and lost.
Rivera, Gabby. Juliet Takes a Breath. 2016. 266p. Riverdale Ave. Books, $19.99 (9781626012516).  Grades 10+. Juliet, a kick-ass Puerto Rican lesbian from the Bronx, heads to Portland, OR, for an internship with a bona fide celesbian author. Through her experiences, she questions and unlocks the various intersectionalities that divide and bind.
Russo, Meredith.  If I Was Your Girl. 2016. 288p. Flat Iron Books, $17.99 (9781250078407).  Grades 10+.  Stonewall Book Awards–Mike Morgan & Larry Romans Children's Award Book.  Meredith Russo tells the story of Amanda Hardy, a trans teen who moves to rural Tennessee for a fresh start. Groundbreaking for its skill and authentic representation, this book displays the complexity, power, and hope possible when authors' #ownvoices are reflected in their art.
Self, Jeffrey. Drag Teen. 2016. 261p. Scholastic/Push, $17.99 (9780545829939). Grades 9+. A drag competition offers JT the opportunity to break out of his small-town Florida life and live his dream onstage in wig, heels, and false eyelashes.
Selzer, Adam.  Just Kill Me. 2016. 325p. Simon & Schuster, $17.99 (9781481434942).  Grades. 9+. Megan has been surrounded by death her whole life, given her family has owned a funeral home for generations.  So guiding ghost tours seems natural…until it appears someone might want her to be the next ghost on their tour.
Spangler, Brie. Beast. 2016. 330p. Random House/Alfred A. Knopf, $17.99 (9781101937167). Grades 9+. Fifteen-year-old Dylan, 6'4" and growing, is known as "Beast." When an incident sends him to a self-harm group he falls for Jamie and discovers the he's not alone in struggling with his identity.
Stevenson, Robin. Under Threat. 2016. 129p. Orca Books, $9.95 (9781459811317). Grades 9+. Franny's parents, the town's local abortion providers, have always received threats.  But when the threats reach a little too close to home, will they destroy both her family and her relationship with her girlfriend?
Tamaki, Mariko. Saving Montgomery Sole. 2016. 228p. Macmillan/Henry Holt/Roaring Brook Press, $17.99 (9781626722712). Grades 7+. While Montgomery spends her time steeped in the paranormal, she never questions the security and love of her two moms. When a well-known evangelical preacher moves to town, she worries that others may challenge her family.
Thorne, Jenn Marie. The Inside of Out. 2016. 425p. Penguin Books/Dial Books for Young Readers, $17.99 (9780803740587). Grades 9+. Daisy thinks being an ally to her best friend is going to be easy.  As she leads the fight to allow same-sex dates at Homecoming, Daisy discovers that standing with her friend is different from standing in for her friend.
* Tilahun, Na'amen Gobert. The Root. 2016. 411p. Skyhorse Publishing/Night Shade Books, $14.99 (9781597808637). Grades 9+. Two teens live in alternate versions of San Francisco, each fighting to keep their world alive from the dark forces that threaten destruction.
Whaley, John Corey. Highly Illogical Behavior. 2016. 249p. Dial Books, $17.99 (9780525428183). Grades 8+. Solomon Reed hasn't stepped out of his house in three years; Lisa Praytor wants nothing more than to leave their town.  Solomon may be her ticket out.
* White, Kiersten. And I Darken. 2016. 486p. Random House Children's Books/Delacorte, $18.99 (9780553522310). Grades 9+. Lada and Radu, children of the Wallachian prince Vlad Dracul, are abandoned to the Ottomon Empire to ensure peace between the kingdoms. When assassination plots and unexpected loves arise, both must decide where their loyalties arise.

Winters, Cat. The Steep and Thorny Way. 335p. 2016. Abrams/Amulet, $17.95, (9781419719158). Grade 9+. Urged on by her father's ghost, Hanalee and Joe search to find the truth about his murder in 1920s Oregon.
Young Adult Non-Fiction
Cooper, Alex. Saving Alex: When I Was Fifteen I Told My Mormon Parents I Was Gay, and That's When My Nightmare Began. 2016. 248p. HarperCollins/HarperOne, $24.99 (9780062374608).  Grades 9+. Alex Cooper tells the true story of her time in an unlicensed conversion program and the fight to live openly gay in her conservative surroundings.
Cronn-Mills, Kirstin, and Alex Nelson. LGBTQ+ Athletes Claim the Field: Striving for Equality. 2016. 103p. Lerner Publishing Group/Twenty First Century Books, $34.65 (9781467780124). Grades 7+. The stories of LGBTQ+ athletes, past and present, who have struggled for inclusion in competitive sports.
Jennings, Jazz. Being Jazz: My life as a (Transgender) Teen. 2016. 265p. Random House/Crown, $17.99 (9780399554643). Grades 7+. Jazz Jennings recounts growing up trans, becoming a national spokesperson, and role model.
Keyser, Amber J. The V-Word. 2016. 197p. Simon & Schuster/Beyond Words, $10.99 (9781582705217). Grades 9+. Seventeen women share the real stories of their first time sexual encounters.
Testa, Rylan J., Deborah Coolhart, Jayme Peta. The Gender Quest Workbook: A Guide for Teens & Young Adults Exploring Gender Identity. 2015. 169p. New Harbinger/Instant Help, $16.95 (9781626252974). Grades 9+. This is a workbook designed to help young adults explore gender identity and its intersectionalities.
Graphic Novels
Monster, Sfe R., ed. Beyond:  The Queer Sci-Fi and Fantasy Anthology. 2015.  $20.00, (9780990995692). Grades 10+. Queer comics from space travel to werewolves and everything in between.
Nicholson, Hope, ed. The Secret Loves of Geek Girls: Expanded Edition. 2016. 279p. Random House/Dark Horse Comics, $14.99 (9781506700991). Grades 10+. Comics and essays combine in this nonfiction anthology on geeks and relationships.
* O'Neill, Katie. Princess Princess Ever After. 2016. 53p. Oni Press, $12.99 (9781620103401). Grades 2-5. A graphic novel where girls are heroes, monsters just want to dance, and two princess find their happily ever after together.
Ottaviani, Jim. The Imitation Game: Alan Turing Decoded. Written by Jim Ottaviani, illus. by Leland Purvis. 2016. 217p. Abrams/Harry N. Abrams, $24.95 (9781419718939).  Grades 9+.  Mathematician and pioneer of computer science, Alan Turing, cracked the Enigma Code aiding in WWII's conclusion. Persecuted for his sexual orientation, his life comes to a catastrophic end.
Stevenson, Noelle, Shannon Watters, Carolyn Nowak, Maarta Laiho, and others. Lumberjanes Volume 3: A Terrible Plan. 2016. 112p. Simon & Schuster/Boom Studios, $14.99 (9781608868032). Grades 6-12. During a free day at camp, Jo, April, and Ripley try to earn as many badges as possible, while Mal and Molly's picnic date turns into a journey to a parallel dimension when the Bear Woman shows up.
* = Top Ten
The 2017 Rainbow Books list committee includes Co-Chair Kathleen Breitenbach, Hamilton Township Public Library, Hamilton, N.J.; Co-Chair Mary Gen Davies, Chicago Public Library, Chicago; Heather Acerro, Rochester Public Library, Rochester, Minn.; Dawn Betts-Green, Tallahassee, Fla.; Ruth Ann Compton, Arlington County Public Library, Arlington, Va.; Shelley Ann Mastalerz, Seattle Public Library, Seattle; and Edward Sullivan, Oak Ridge, Tenn.