2016 Rainbow Book List
The Rainbow Book List Committee proudly announces the 2016 Rainbow Book List. The Rainbow Book List is a bibliography of books with significant gay, lesbian, bisexual, transgender, or queer/questioning content, and which are aimed at youth, birth through age 18. The list is intended to aid youth in selecting high-quality books that were published between July 2014 and December 2015. The list also is intended to aid as a collection development or readers' advisory tool for librarians serving children and young adults.
The committee members evaluated over 250 books from small, independent, and large publishers, and selected 40 books from 27 publishers for the 2016 Rainbow Book List. The list also includes three additional books selected by the Stonewall Book Awards Committee as Mike Morgan & Larry Romans Children's & Young Adult Award or Honor Books.
Starred titles indicate the Rainbow Book List's Top Ten choices from the list, highlighting books of exceptional queer representation and literary merit to receive particular commendation.
The committee members would like to note the staggering increase in number of books of quality that fit the criteria of the list, as well as a number of books with bisexual and intersex representation. The committee would also like to draw attention to the decrease in books for younger readers, as well as the continued small numbers of LGBTQ characters of color or with disabilities. Also, as in previous years, high-quality nonfiction, including memoirs and history so vital to tying a culture together, remains sparse.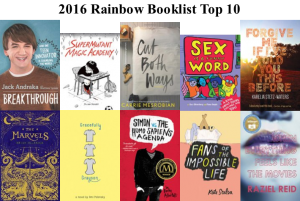 Picture Books
Hall, Michael. Red: A Crayon's Story. 2015. 40p. Greenwillow, $18.89 (9780062252098). 3-7 yrs.
The label read, "Red." However, all of Red's strawberries and hearts come out blue. Friends and family try to fix Red until new buddy Berry helps this crayon discover his true color.
Newman, Lesléa. Heather Has Two Mommies. Written by Lesléa Newman, illus. by Laura Cornell. 2015. 32p. Candlewick, $16.99 (9780763666316). 3-7 yrs.
Heather's favorite number is two: she has two arms, two legs, two pets, and two mommies. When Heather goes to preschool, she learns that not all families look alike, but that they all have one thing in common—love. New text and illustrations make this classic accessible to a modern audience.
Rotner, Shelly, and Sheila M. Kelly. Families. 2015. 32p. Holiday House, $17.95 (9780823430536). 3-7 yrs.
A beautiful diversity of family life is depicted through simple text and photographs.
Schiffer, Miriam B. Stella Brings the Family. Written by Miriam Schiffer; illus. by Holly Clifton-Brown. 2015. 36p. Chronicle, $16.99 (9781452111902). 3-7 yrs.
It's Mother's Day, and everyone is making invitations for their mothers to come to the school celebration. But Stella has two dads and no mom to invite…What should she do?
Tyner, Christy. Zak's Safari. Written by Christy Tyner; illus. by Ciaee. 2014. 38p. CreateSpace, $15.00 (9781502325464). 3-7 yrs.
When young Zak's outdoor "safari" gets cancelled because of the rain, he leads his readers (and his stuffed animal tourists) on an adventure through the story of his family. Zak introduces his two mothers and how they became a family of three with the help of a donor from a sperm bank.
Juvenile Fiction
Gino, Alex. George. 2015. 195p. Scholastic, $16.99 (9780545812542). Gr 3-7.
Stonewall Book Awards–Mike Morgan & Larry Romans Children's Award Book. When people look at George, they see a boy. But she knows she's a girl. With the help of her best friend, George comes up with a plan, not just so she can be Charlotte in her school play but so everyone can know who she is, once and for all.
*Polonsky, Ami. Gracefully Grayson. 2014. 243p. Hyperion, $16.99 (9781423185277). Gr. 4-7.
Twelve-year-old Grayson, through a school play, finds the courage to reveal a deep truth: in spite of being seen as a boy, she knows for a fact that she's a girl.  
*Selznick, Brian. The Marvels. 2015. 667p. Scholastic, $32.99 (9780545448680). Gr. 5-8.
In black-and-white pencil illustrations, Selznick depicts three generations of actors descending from the sole survivor of a legendary shipwreck. As that story closes, another unfolds in prose as young Joseph discovers his connection to the actors and his family history, and he embraces his uncle's life story as it affects and changes his own.
Juvenile Nonfiction
Pohlen, Jerome. Gay & Lesbian History for Kids: The Century-Long Struggle for LGBT Rights, with 21 Activities. 2015. 192p. Chicago Review, $17.95 (9781613730829). Gr. 4-9.
From ancient China to the 2015 U.S. Supreme Court decision on marriage equality, this narrative history reference gives context to the challenges and achievements of both queer individuals and the broader quest for civil rights.
*Silverberg, Cory. Sex is a Funny Word: A Book about Bodies, Feelings, and YOU. Written by Cory Silverberg; illus. by Fiona Smyth. 2015. 159p. Seven Stories, $23.95 (9781609806064). Gr. 3-6.
For children with questions about bodies, gender, touch, sex, and love, this all-inclusive book guides the conversation between children and trusted adults in an accessible graphic format. Gentle, intelligent humor brings home the message of respect, trust, joy, and justice for everyone's body. Stonewall Book Awards–Mike Morgan & Larry Romans Children's & Young Adult Award Honor Book.
Young Adult Fiction
Adler, Dahlia. Under the Lights. 2015. [279p]. Spencer Hill Contemporary, $9.95 (9781633920170). Gr. 9-12.
Vanessa Park loves her job on the teen TV drama Daylight Falls; Josh Chester is a notorious Hollywood playboy whose career is spiraling out of control. As major life transitions happen, relationships blossom in unexpected ways.
*Albertalli, Becky. Simon vs. the Homo Sapiens Agenda. 2015. 320p. Balzer + Bray, $17.99 (9780062348678). Gr. 8-12.
Closeted high schooler Simon Spier is being blackmailed—either help Martin Addison get together with the girl of his dreams (Simon's good friend) or Simon's sexuality and email romance with mystery classmate "Blue" will be made public.  Follow Simon as he comes out, handles his bully, and navigates how to be with "Blue" in real life. 
Barzak, Christopher. Wonders of the Invisible World. 2015. 352p. Knopf, $17.99 (9780385392792). Gr. 9-12.
Stonewall Book Awards–Mike Morgan & Larry Romans Children's & Young Adult Award Honor Book. Seventeen-year-old Aidan feels like he is sleepwalking through his life until his childhood friend Jarrod returns to his hometown. Jarrod and Aidan are inexorably drawn to each other. Can their connection help Aiden unlock the secrets in his family and find his true self?
Black, Holly. The Darkest Part of the Forest. 2015. 328p. Little, Brown, $18.00 (9780316213073). Gr. 8-12.
Hazel should have known better than to make a deal with the fairies of the forest for her brother Ben's talent, but it's too late. The long-sleeping horned boy—the unrequited love of both siblings—has broken out of his glass box, and the Fae have come to exact their price.
Bray, Libba. Lair of Dreams. 2015. 624p. Little, Brown, $19.99 (9780316126045). Gr. 8-12.
After escaping a psychotic killer, the Diviners believe their life will be easier. Instead they find that a mysterious phantom is drawing people into a dream world, where they are trapped within a nightmare and murdered. Can dreamwalkers Henry and Ling save the city?
Brown, Rachel Manija and Sherwood Smith. Stranger. 2014. 432p. Viking, $18.99 (9780670014804). Gr. 7-12.
Generations after a natural disaster destroyed civilization as we know it, eighteen-year-old prospector Ross Juarez escapes King Voske's bounty hunter and finds refuge in the town of Las Anclas. Mutated residents with strange powers live side-by-side with "Norms," yet not even this haven is free from the shadow of King Voske's greed for dominion.
Brugman, Alyssa. Alex As Well. 2015. 224p. Henry Holt, $16.99 (9781627790147). Gr 9-12.
Fourteen years old and intersex, Alex was raised by her parents as a boy, but she knows she is a girl. Taking her identity into her own hands, she stops her testosterone pills and starts over at a new school. This presents a whole new set of challenges, from facing down disapproving parents to navigating her legal rights.
Clare, Cassandra, Sarah Rees Brennan, and Maureen Johnson. The Bane Chronicles. 2014. 507p. McElderry, $22.99 (9780692238066). Gr. 8-12.
When Magnus Bane is not battling in the world of Shadowhunters, vampires, werewolves, or tentacle demons, his universal amorous tastes (not to mention his cutting-edge fashion sense) lead him through adventures of a different kind. From the eighteenth century to the twenty-first, these stories augment the life of this fabulous character first introduced in City of Bones, giving fans and newcomers alike intriguing insights into the world of The Mortal Instruments and The Infernal Devices.
Dawn, Nyrae. The History of Us. 2015. 184p. Harmony Ink, $14.99 (9781634761796). Gr. 9-12.
Basketball player Bradley Collins is out to his friends but doesn't see his sexuality as central to his identity. TJ is openly gay and about to embark on a road trip to document LGBTQ people and their experiences. Bradley joins him on a road trip full of beautiful stories and emotional growth.
Floreen, Tim. Willful Machines. 2015. 368p. Simon Pulse, $17.99 (9781481432771). Gr. 9-12.
In a future world where machines are not only sentient but also have free will, Lee is the closeted son of the very conservative US President. When an escaped 2B machine targets Lee at his prep school, all hell breaks loose.
Grace, Amanda. No One Needs to Know. 2014. 229p. Flux, $9.99 (9780738736259). Gr. 9-12.
Olivia and Zoey live drastically different lives in Tacoma, WA—Olivia in the penthouse of a highrise overlooking the sound, Zoey in a crumbling house on the wrong side of the tracks. When Zoey starts seeing Olivia's brother, and the girls are paired for a school project, they get a glimpse of each other's lives, and find themselves becoming more than friends.
Gregorio, I.W. None of the Above. 2015. 340p. Balzer + Bray, $17.99 (9780062335319). Gr. 9-12. 
Kristin's life is just about perfect: a full-ride to university on a track scholarship, a great boyfriend, and a surprise election as homecoming queen. When she decides to have sex for the first time, it goes painfully wrong, and a visit to the gynecologist reveals a life-altering fact: Kristin is intersex. Living her through her diagnosis of androgen insensitivity syndrome means facing the brutal response of classmates, as well as her own evolving understanding of what her gender identity means.
Hutchinson, Shaun David. The Five Stages of Andrew Brawley. 2015. 297p. Simon Pulse, $17.99 (9781481403108). Gr. 9-12.
Andrew Brawley should have died in the car accident that killed his parents and sister; he did not. Instead, he skulks around in the hospital where they died, working on his graphic novel and avoiding the ever-vigilant eyes of Death. When Rusty, a boy set on fire for being gay, arrives in the ER, Andrew falls in love and begins to imagine life outside the hospital walls.
Koehler, Christopher. Poz. 2015. 180p. Harmony Ink, $14.99 (9781632163684). Gr. 9-12.
Remy Babcock is seventeen, a rower, in the closet, and newly HIV-positive. As he navigates the consequences of a series of casual flings, he regains the trust of his loved ones and his own sense of self-worth.
Konigsberg, Bill. The Porcupine of Truth. 2015. 336p. Arthur A. Levine Books, $17.99 (9780545648936). Gr. 9-12.
Stonewall Book Awards–Mike Morgan & Larry Romans Young Adult Award Book. Carson is stuck in Billings, Montana, when he meets Aisha. The two head out for an epic road trip that will change both their lives. Their adventure helps them find a community, a history, and a family.
Levithan, David. Hold Me Closer: The Tiny Cooper Story. 2015. 200p. Dutton, $17.99 (9780525428848). Gr. 9-12.
Tiny Cooper—"the world's largest person who is also really, really gay" of Will Grayson, Will Grayson fame—shares his life story in this libretto of a musical.
McCarry, Sarah. About a Girl: A Novel. 2015. 272p. St. Martin's Griffin, $21.99 (9781250068620). Gr. 10-12.
Astronomy buff Tally plans to go to college, solve the mysteries of the universe, and win a Nobel Prize along the way. When love complicates her friendship with the boy next door, Tally veers off on a quest to uncover her own mysterious origins. Astronomy meets mythology in a magical realist twist, and Tally's questions get lost in the arms of a beautiful woman determined to forget her own past. 
*Mesrobian, Carrie. Cut Both Ways. 2015. 352p. HarperCollins, $17.99 (9780062349880). Gr. 9-12.
Seventeen-year-old Will believes he is adept at straddling two worlds. He lives with his affluent mother in the suburbs where he makes out with his gay best friend; he lives with his struggling father in the city where he hooks up with a girl from school. When his worlds collide, he is cut both ways. 
Moskowitz, Hannah. Not Otherwise Specified. 2015. 260p. Simon & Schuster, $11.99 (9781481405959). Gr. 8-12.
Seventeen-year-old Etta feels out-of-place in her small Nebraska town: she's not gay enough for her former lesbian friends or straight enough for the rest of the school; she's not sick enough to be diagnosed with an eating disorder or thin enough to be a ballerina. Etta is left to discover who she really is and what it means to be "not otherwise specified."
Nielsen, Susan. We Are All Made of Molecules. 2015. 256p. Wendy Lamb, $16.99 (9780553496864). Gr. 7-10.
Personalities clash when brainiac Stewart and his widower father move in with social-elite Ashley and her mother. To complicate matters (and to Ashley's chagrin), her gay dad lives in the carriage house in the backyard.
*Reid, Raziel. When Everything Feels Like the Movies. 2015. 171p. Arsenal Pulp, $15.95 (9781551525747). Gr. 9-12. 
There is no such thing as bad press, especially to small town middle-schooler Jude Rothesay. Loosely based on the on the real-life story of Larry Fobes King, this brutal novel explores the life of a glamorous boy who is always in the spotlight.
Rowell, Rainbow. Carry On. 2015. 522p. St. Martin's Griffin, $19.99 (9781250049551). Gr. 8-12.
Simon Snow just wants to have a normal(ish) last year at his magickal school, Watford, with his girlfriend Agatha and his best friend Penny. However, the Insidious Humdrum has other plans. On top of that, Simon's discovery that his probably-vampire roommate and definite nemesis, Baz, has gone missing is far more distracting than he would have expected.
*Scelsa, Kate. Fans of the Impossible Life. 2015. 368p. Balzer + Bray, $17.99 (9780062331755). Gr. 9-12.
Jeremy, Mira and Sebby first bond while gathering signatures on a petition to establish an after-school Art Club. All three of them struggle with physical and emotional traumas, but together they hope to bring some light into their lives. The use of a different voice for each character's portion of the narrative (first, second and third person) adds haunting perspective to their powerful stories.
Schmatz, Pat. Lizard Radio. 2015. 288p. Candlewick, $16.99 (9780763676353). Gr. 7-10.
Kivali is a Bender. Not quite boy or girl, Kivali must fit in or risks being exiled to Blight. Sent to CropCamp, a commune meant to steer teens toward a lifetime of good citizenship and "proper" gender roles, Kivali, called Lizard, wrestles with friendship, love, and the price of being true to oneself.
Silvera, Adam. More Happy Than Not. 2015. 295p. SohoTeen, $18.99 (9781616955601). Gr. 9-12.
Aaron Soto is a sixteen-year-old Puerto Rican living in the Bronx, happy in his relationships with his girlfriend and childhood friends, despite his father's recent suicide. When Aaron starts to fall for a guy and things go terribly wrong, how far will he go to erase the horrible memories of his past?
*Stetz-Waters, Karelia. Forgive Me If I've Told You This Before. 2014. 299p. Ooligan, $14.95 (9781932010732). Gr. 9-12.
Triinu Hoffman realizes she is definitely gay, a problem in the middle of a statewide campaign against equal rights for homosexuals in 1992 Oregon. Through lyrical language, this novel depicts a true test for Triinu of who she is and who she wants to become.
Talley, Robin. What We Left Behind. 2015. 416p. Harlequin Teen, $18.99 (9780373211753). Gr. 10-12.
Toni and Gretchen were the perfect high school couple, determined to stay together forever. However, their relationship begins to strain when Gretchen unexpectedly starts college at NYU instead of following Toni to Boston. Further troubles arise as Toni connects with Harvard's trans community, which raises questions about Toni's own gender and Gretchen's sexuality.
Walton, Will. Anything Could Happen. 2015. Scholastic, $17.99 (9780545709545). Gr. 7-12.
Having a secret crush can be hard. For Tretch, a closeted teen who is in love with his straight best friend, it verges on torture. Whether he reveals his true feelings or continues to avoid them, the only certain thing is that anything could happen.
Wilke, Daria. Playing a Part. Tr. by Marian Schwartz. 2015. 161p. Arthur A. Levine, $18.99 (9780545726078). Gr. 7-10.
This import—the first teen book translated from Russian—follows Grisha's coming-of-age in a Moscow puppet theater, as he reels from the impending departure of his beloved gay mentor Sam and the looming heart operation of his best friend Sashok.
Young Adult Nonfiction
*Andraka, Jack, with Matthew Lysiak. Breakthrough. 2015. 239p. Harper, $18.99 (9780062369659). Gr. 7-12.
Teen scientist Jack Andraka's journey through middle and high school is replete with homophobic persecution at school and skepticism from the scientific community. Between developing an early and inexpensive test for pancreatic cancer and establishing his own sense of self-worth, Jack's story is a beacon of inspiration and hope.
Graphic Novels and Graphic Nonfiction
Hubert. Adrian and the Tree of Secrets. Written by Hubert, illus. by Marie Caillou, tr. by David Homel. 2015. 125p. Arsenal Pulp, $18.95 (9781551525563). Gr. 8-12.
This French graphic novel tells the story of Adrian, whose oppressive mother and strict Catholic school make being openly gay seem outside of the realm of possibility. After sharing a kiss in a treehouse, Adrian experiences a glimpse of a life without loneliness. 
*Tamaki, Jillian. SuperMutant Magic Academy. 2015. 224p. Drawn and Quarterly, $22.95 (9781770461987). Gr. 9-12.
At this boarding school for paranormal teenagers the student body is a wild mix, from witches and shapeshifters to jocks and performance artists. Hilarity ensues.
Thrash, Maggie. Honor Girl. 2015. 272p. Candlewick, $19.99 (9780763673826). Gr. 8-12.
In this graphic memoir, Maggie Thrash recalls a summer at Camp Bellflower for Girls when she was fifteen. As she develops skills, makes enemies, and gains unexpected recognition, she also feels the first spark of attraction to camp counselor Erin.
Committee
The 2016 Rainbow Books list committee includes Thaddeus Andracki, Chair; Heather Acerro, Jess Alexander, Abbie Anderson, Ruth Compton, Mary Gen Davies, M'issa Fleming, Shelley Mastalerz, Lucas McKeever, and Edward "Sully" Sullivan.  The committee also received support from administrative assistant, Naomi Gonzalez.